Tadpolers Andy Christian and Kevin Cristiano are going to be busy travelers for the next couple of months. They'll be attending both WordCamp Baltimore on September 8th, and WordCamp Philly on October 21st-22nd.  Everyone at Tadpole is also heavily involved in the New York WordPress community.  Four of five members helped organize this year's WordCamp NYC — and Tadpoler Melissa Cahill will be repeating her WordCamp NYC session about SEO best practices for WordPress at this month's WordPress NYC Meetup.  It was standing room only both times she presented it that weekend, and will be so again at the meetup. (This event is already sold out, except for a few wait-list seats, so if you aren't able to attend, there will be a video posted afterward.)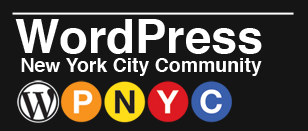 Why is it so important for everyone to be involved in the community? Yes, it's a great way to learn about WordPress. WordCamps and WordPress Meetups always have amazing content from basic blogging to advanced development. It's so much more fun than reading from a blog, or asking questions on a forum.
More importantly, though, going to WordPress events is a great way to build relationships with the people that use, make, and develop for WordPress. Put a face to that name (or avatar) that person that's been helping you with a problem on a WordPress forum. Meet the rockstars that help make WordPress.
Most of all, don't be afraid to walk up to people and say hello. While some of the speakers might seem like celebrities, they're really just people like you and me–people that have a passion for WordPress. They are usually very receptive to praise, feedback, or a free drink at the after party.
If you don't live in the northeast USA (and who doesn't?), don't fret–There are WordCamps and meetups all over the world. There are so many events, in fact, that there's usually a WordCamp somewhere in the world every weekend of the year; in some cases more than one. Check out WordCamp Central or search Meetup.com for more details.
And if you'd like to meet the Tadpole Collective, and a lot of other awesome WordPressers, be sure to attend WordPress events in your area, or even travel to one in a nearby city. The experience is invaluable.